Piano lessons for
all ages & skill levels
With professional tutor Marchie Hya Condon in Carrara, Gold Coast.
YOUR FIRST APPOINTMENT WITH MARCHIE IS COMPLIMENTARY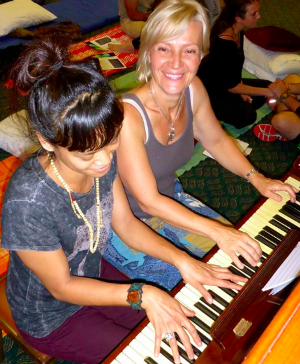 Hi, I'm Marchie!
Piano & Music Theory Teacher, Composer, Artist & Music Lover
I was born and raised in Hungary and migrated to Australia as a young adult with my small family. I adore the sea, the air, the space, the climate, the lifestyle and the opportunities. I believe every day is Christmas in Australia. I love board games and uncontrollable laughter with loved ones.
What makes me 'tick' is to bring sense of empowerment, wellness and balance to myself and others by any means, but mostly through sound. I love to daydream and 'see' energy behind all. I love to share sounds that transport us to faraway, blissful places, elevate joy and restore wellness.
I enjoy creating organic gardens, yummy foods, soups, green smoothies and avocado chocolate desserts, artworks and quirky things. I love to frolic, laugh and make people realize how great they are – especially playing the piano!
I look forward to meeting you and helping you grow your love of the piano too!
Fully Qualified, Professional Piano Tuition
Marchie is a fully qualified teacher in Piano, Music Theory Tuition, Aural Training and AMEB Exam Preparations. She also has a passion for Primary, High School and Tertiary English Tutoring, Literacy, Numeracy Foundations and Special Needs Care.
Qualifications Include:
BMusicStudies
GradDipEd
GradCertTESOL
Blue Card holder (2004)
Licensed Yamaha (YMF) Teacher (1997)
Professional Member of MTAQ
"Blossoming your child's confidence and creativity through playing and sound – is the greatest gift a parent can give when the right teacher is found."
HAPPY PARENT
"I have known Marchie for over ten years. At the Yamaha Music School she taught classes and conducted individual tuition. This is where she was teaching a music class to four years olds that I first became aware of her strengths. She, beside imparting her musical skills maintained a controlled atmosphere where every participant, both child and adult was satisfied with the outcome. Marchie also impressed with her individual regard for pupils above the responsibilities of her role. It is a testament to her skills that when Marchie began teaching privately, many of us sought her out and have remained with her for all of these years. Marchie has an amazing ability to interact effectively with people from 7 to 70 years old of diverse backgrounds and cultures and to make each person feel important. With patience and compassion she is able to help students discover their own strengths. She is highly recommended!"
AMANDA B.
HAPPY PARENT
"Marchie has a wonderful gift teaching all levels, age groups and abilities. She has been teaching my three sons and myself since 1996 starting with my eldest son in group classes at the Yamaha Music School aged 6. Today he is on his way to a career as a professional orchestral musician. Marchie taught foundations then piano, music theory, musicianship and aural practise. Over the years, Marchie changed from being his teacher to a mentor and then a friend. Marchie is endlessly and wonderfully enthusiastic and her students always come first. She will always put in extra effort to make sure that her pupils are prepared for any exams or concerts. Her music knowledge is extensive and her technical ability is very impressive. If you are looking for a piano teacher for a person of any age or ability, I recommend Marchie as an excellent instructor and mentor."
SARAH R.
COLLEAGUE
"I have always been encouraged by the strength and commitment that Marchie has toward her music career… she treats every individual of all ages with sincerity and genuine kindness… her powers of articulation musically is envied by most and admired by others."
ELAINE B.
HAPPY STUDENT
"I am 13 years old and one of Marchie's piano students. I love her as a piano teacher and I believe that she is very knowledgeable in her music and can convey that into successful teaching. I have been with several piano teachers, but Marchie is the best one by far!!! I highly recommend her to anyone and everyone. She not only teaches well, but also understands that some people might have other commitments. She is encouraging to everyone and ALWAYS puts her students first. Her passion for music, especially piano is inspiring and shines throughout her teaching. If you are looking for a piano teacher, well it's your lucky day! Marchie is the perfect piano teacher for all ages and personalities!!!"
LIVINIA SCH.
Prices & Packages
Lessons start from just $35 for 30 minutes. If you are looking for regular tuition (e.g. weekly) you can also buy in bulk and save! Discounts apply if you purchase your lessons in packs of 5, 10, 20, 30 or 40 (see the pricing table below).
To book and pay for your lesson(s) online, there are two steps you need to take:
STEP 1: Select your lesson type & package and proceed with either payment methods, EFT – Marchie's Healing Harmonies ANZ  – BSB 014 701  Ac 491 126 096  or via easy Paypal deposit: by simply clicking on the desired package below a new page opens with the Paypal portal to complete your online transaction free of charge, where, beside PayPal, all major cards are also accepted (you need a free PayPal Account for this).
You will notice, I offer substantial discounts for longer / compound lessons with great delight, as my appreciation toward parents' ongoing educational commitments  – the larger the package the more you can save – suiting families with more than one learner or for students who at some stage need both, practical and theory lesson times for theory exam preparation (as only small portion of theory fits into a prac lesson and when the time comes, theory should be considered a separate subject and skill to achieve high grades in theory exams) or, ideal for advanced students who need to work toward an exam / concert. It is not uncommon to have 2 hours contact time / week in intense learning phases. To enjoy these discounts, please note: payments are due the first week of any of your chosen lesson package.
STEP 2: Book your lesson time by Email sound@marchiespianoschool.com.au or Call Marchie 0402 878 764.
Regular Lessons – Adults & Children
I have limited availability for regular weekly lessons during daytime hours (for adults) and after school from 3:00 – 6:30pm to cater for school aged children. I will work with you to find a suitable time for your regular weekly lessons, and if you need to reschedule on occasion I can sometimes cater for additional or weekend make-up lessons so you don't fall behind.
Casual Lessons & Gift Certificates
Perhaps you just want the one-off or occasional lesson? Or want to purchase a few lessons as a gift for someone? No problem! You can purchase your chosen package below, and simply book in for each lesson when you are ready by contacting me (below).
Step 1: Select Your Lesson Type & Package
Step 2: Book Your Lesson Time
To make it easier, please, have 2-3 possible lesson time preferences that could suit you. This will allow Marchie to allocate the best placement for you around her existing students. Please, make your request by Email: sound@marchiespianoschool.com.au or Call: Marchie 0402 878 764
According to statistics, you save yourself enormous amounts of energy and time if you learn the basics properly. To get to the level of thorough enjoyment of playing your piano or other insruments you either have the ability to play by ear, OR – like the majority of...
read more
Finger numbers allow players of various musical instruments to learn their music faster. Therefore by looking at any of the musical scores, we will always find small numbers belonging to certain notes, depending which instrument is it written for as different...
read more
Frequently Asked Questions
Why Marchie's Piano School?
Learning begins from day one in an atmosphere where children / adults are naturally able to relax. Most importantly, the individual's learning priorities will determine teaching direction regardless of age and level. Every week we learn something NEW and at the beginning of each lesson we review and clarify what we previously learned and students are encouraged to freely ask questions. No wonder the lessons end up being a lot of FUN and also a peace of mind!
Where are you based?
All lessons are conducted in my home in Carrara, Gold Coast QLD (Australia). The address can be found at the bottom of this page in the Contact section.
What ages do you teach?
I have taught students from 5 – 105! Generally I find that about 5 years of age is a great time to start regular piano tuition, and you are never too old to learn piano!
Can I learn piano just for fun?
Absolutely! I have many students that just love the sound of the piano and in their later years have decided to start learning to play. It's a wonderful skill to have and a great way to relax, keep the mind and fingers active, and learn a great new skill.
If I have multiple children, can I book a longer session and have them go one after the other?
Yes of course! We love teaching siblings and families, and you are welcome to book a longer session (e.g. 1 hour lesson) and split the time between several siblings (minimum 30 minute lesson per student).
What if I need to cancel or reschedule a booking?
Please let me know as soon as possible if you will not be able to attend any appointment, so I can do my best to fill your spot and book you in for a make-up lesson at a time that suits you. Any "no-shows" without notice will not be offered a make-up lesson or refund, so please do let me know as soon as you can.
What, how, and how fast are we learning?
If the students are not complete beginners, they will be observed to determine what parts of their necessary knowledge is in place and what grey areas will need to be filled in. Activities, informal questions, technical exercises and tasks related to playing and reading sheet music is used for accurate evaluation in a warm, calm, light-hearted environment.
Advancing to higher grades takes place organically and only once all essential basics have been completed in a sequenced order to act as support . Steady, confident progress is the result of regular lessons, commitment to practise, and being taught the essential basics at the early stages of learning.
How do I know that my child is progressing with their knowledge and skills as expected?
The best advice is to periodically 'check in' with the teacher to determine if the short and long term goals are going according to plan.
I don't fully understand the homework, is this okay?
Yes this is perfectly fine and normal, no need to panic. Assistance in the first couple of months is fine with young children but later this will not be a must, though every learning journey is different. The children who can already read (English) will be able to follow the suggestions and instructions from their piano note book that is designed to explain the homework.
Every week we start the lesson with reviewing last week's homework, without exception. This method not only clarifies the smallest important details but supports longer term information retention. In a calm, supportive environment the children are able to focus sufficiently and gradually learn. As you can see, cheerful and light-hearted repetition is very important tool for teaching a subject that is so 'hands on' yet both, practical and theoretical at the same time.
How long does it take to learn a single piece of music?
The appropriate answer would be: "how long is a piece of string"?
Difficulty level is gradually built up over weeks, months, years… There will be many influencing factors including length of music, level of challenge and the learner's abilities. According to personal observations, beginners will go through the same amount of 'knowledge intake' with approximately 4-6 weeks difference.
Can there be too few lessons and is there a problem with 'tempting' ads for fast progress ?
This topic seems to be up for alarmingly free interpretation. Parents need to beware of music teaching ads offering too much freedom without mentioning that music can take real dedication and practise to perform. Tempting adverts featuring 'first lesson is free' or 'learn what you want' and offering cheaper fees than those regulated by the Music Teachers Association is cautioned against as their motives may be for immediate gain, instead longer term plans with the learner in mind. Also, negotiating fortnightly lessons will slow if not stop progress and leave the learning process open to become prone to ingrained mistakes that takes more effort then to undo at the next lesson. It does not therefore pay off usually.
Marchie would love to meet you for an obligation free appointment to discuss your goals and help you determine how you can achieve them.
What if my child is not yet able to read sheet music?
Don't worry, I teach that too!
Music reading and writing is one of the foundations of learning to play the piano and it is practised at every lesson, without exception. The ability to read the sheet music will be developed during the lesson as all other skills are also developed.
Your first appointment is complimentary
Before I begin with any new students, I like to be sure that we are a good fit and get to know the student a little bit – understand where they're at, what they're hoping to achieve, etc. This 30 minute no-obligation meeting is complimentary, and also allows you to get a feel for how I work and decide if we are a good match. To book in for your first complimentary meeting, simply go to my online booking calendar, click on "Initial Appointment (FREE)" and select from one of the available times. I look forward to meeting you soon!
Contact Marchie
Marchie Hya Condon
Marchie's Piano School

M: 0402 878 764
E: sound@marchiespianoschool.com.au
A: 1 The Cove Crescent, Carrara QLD 4211